What to look for, and how to respond, if you have Bed Bugs.
The younger the Bed Bug, the more difficult they are to spot. Full grown adults are about the size of a tick, flat, oval-shaped and medium brown. Adult bed bugs can grow up to 7 mm in length, while babies can be as small as 1.5 mm. Adult bed bugs are reddish brown in color, appearing redder after feeding, while young bed bugs are clear in color and become bright red after eating.
Expert Tip!
when looking for bed bugs or signs of them, your most important tool is a very bright flashlight. Bed bugs are tiny, so check in dimly lit cracks, crevices, mattress seams, and other dark places where they like to hide.
I found bed bugs in my home ... now what?
Don't delay, call a Pest Control Expert, someone trained and certified in Integrated Pest Management. Call Sigma Pest Control. We specialize in Heat Treatment as a guaranteed way to rid your home of bed bugs.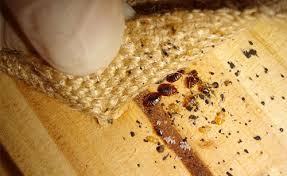 Do It Yourself bed bug treatments may reduce the bed bug population, but not all bed bugs can be killed in a single spray treatment. As a matter of fact, most bed bug pesticides do not kill the eggs. If you don't kill the egg, then new bed bugs will continue to hatch and more eggs will continue to be laid. This creates a never-ending cycle of bed bug treatments needing to be perfectly timed to eventually rid your room of all bed bugs.
Don't miss a spot either. Chemical treatments, if administered incorrectly, or at the wrong time, force the remaining bed bugs to move from the treated rooms to safer rooms. Next thing you know, you have a bed bug infestation in multiple rooms throughout your home.
Many homeowners throw their hands up in frustration and start tossing many of their belongings in the trash for a fresh start. But, before you move, and before you throw out your bed, couch, and other furniture, it is important to understand that a heat treatment will get into those hiding places. Heat radiates. There is no place those bugs can hide when confronted with temperatures of 120 °F.
Sigma Pest Control are your licensed and trained heat treatment experts. Our Bed Bug Control program is your answer to a bed bug free home. Call today for a FREE inspection and consultation – (540) 94-SIGMA.